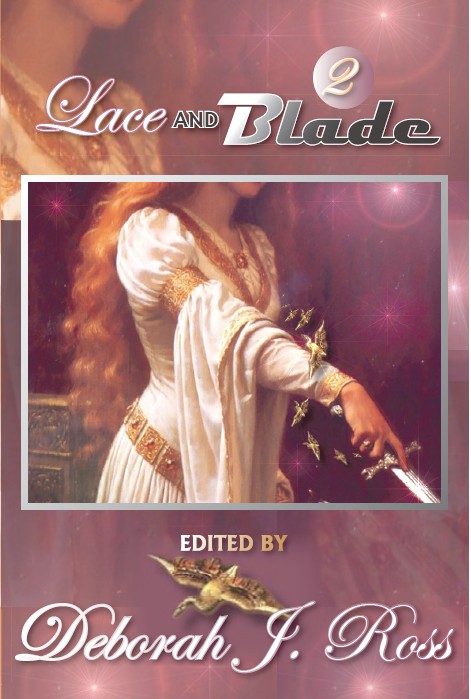 (Click to see cover detail)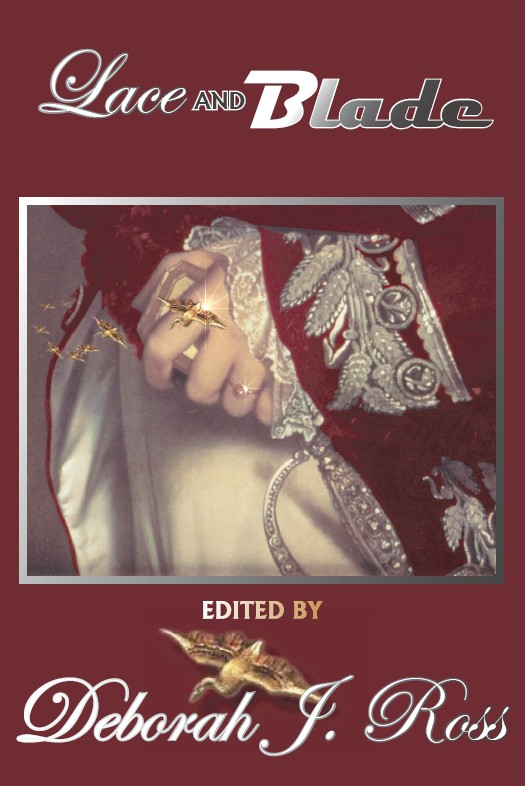 (Click to see cover detail)
Lace and Blade is an annual anthology series of elegant romantic fantasy, edited by JoSelle Vanderhooft, with each volume released on Valentine's Day, from Leda, the exciting new romantic fantasy imprint of Norilana Books, starting in 2008.

Volumes one and two were edited by Deborah J. Ross

In the spirit of classic period swashbucklers, Zorro, the Scarlet Pimpernel, and D'Artagnan, brimming with romantic courtly intrigue and dangerous liaisons, with cloak and dagger and perfumed handkerchiefs, the language of the fan and stolen glances, with the manners of Jane Austen and the sparkling rapier wit of Oscar Wilde, these are fantastic stories of adventure, derring-do, love, and glamorous yet subtle magic, by such stellar authors as Tanith Lee, Catherine Asaro, Diana L. Paxson, Madeleine E. Robins, Robin Wayne Bailey, Dave Smeds, Mary Rosenblum, Chaz Brenchley, and Sherwood Smith -- sophisticated other worlds where passion is a courtly mistress, mystery is moonlight on steel, and magic is the god of love.

En garde, mon amour!

Editor Deborah J. Ross says:

"Lace and Blade 2 is now open for submissions. Send me your most delicious stories.

"This is the second volume of elegant, sensual, romantic fantasy, emphasizing sharp verbal repartee as much as sharp pointed weapons, rapier rather than broadsword. Lace at the wrists, perfume, and poetry; characters -- both men and women -- with vibrant personalities, complex, dashing, and very sexy. I'm particularly interested in stories that have magic and action, but in which conflict is resolved not by violence but by insight, creativity, and compassion. I'd love to see "win-win" endings, sense-of-wonder, plot twists and turnabout. Alternate sexuality is welcome; eroticism a definite plus; exotic, non-Western European settings also encouraged. Please read the first volume to see what I'm looking for.

"Stories must be original and previously unpublished; rights purchased are first English language rights and exclusive electronic rights for one year; 12 months after publication, you are free to sell to other markets."

RIGHTS PURCHASED: First English Language Rights and non-exclusive electronic rights. The anthology will be published by Norilana Books in a trade paperback edition on Valentine's Day, February 14, 2009, to be followed by an electronic edition to be produced later.

PAYMENT: $0.02 a word on acceptance, as an advance against a pro rata share of royalties and foreign or other sales (per word, not per story), plus a contributor copy.

WORD LENGTH: No maximum, although longer stories must be extraordinary.

READING PERIOD begins April 1, 2008. Please do not submit your stories before then.

DEADLINE: August 1, 2008

THE READING PERIOD FOR THIS VOLUME IS NOW CLOSED -- PLEASE CHECK BACK LATER TO SEE WHEN THE NEXT VOLUME OPENS.

HOW TO SUBMIT / FORMATTING: You may e-mail your story as .rtf attachment or mail a hard copy with SASE and a CD containing an .rtf file. Do not send a .docx file as I cannot open them! If e-mailing, please format without headers or footers, 12 point Courier, italics instead of underlining, and put your full name, mailing address and email address on the upper left corner of the first page. I will determine final word count according to my standard formatting.

The subject line of your e-mail should say "Submission: Story Title, last name of author." The story file itself should have your full name, address, e-mail address, title of story, and number of words. We are open to new writers and seasoned veterans alike.

EDITORIAL ADDRESS:

We look forward to reading your most inspired work.
&nbsp